His Beatitude Sviatoslav consecrates the newly built premises of St. Luke's Clinic in Ivano-Frankivsk
February 14, 2023, 15:08
39
On Tuesday, February 14, the Father and Head of the UGCC, His Beatitude Sviatoslav, during his archpastoral visit to Ivano-Frankivsk, performed the rite of consecration of the newly built premises of the St. Luke's Diagnostic and Treatment Center.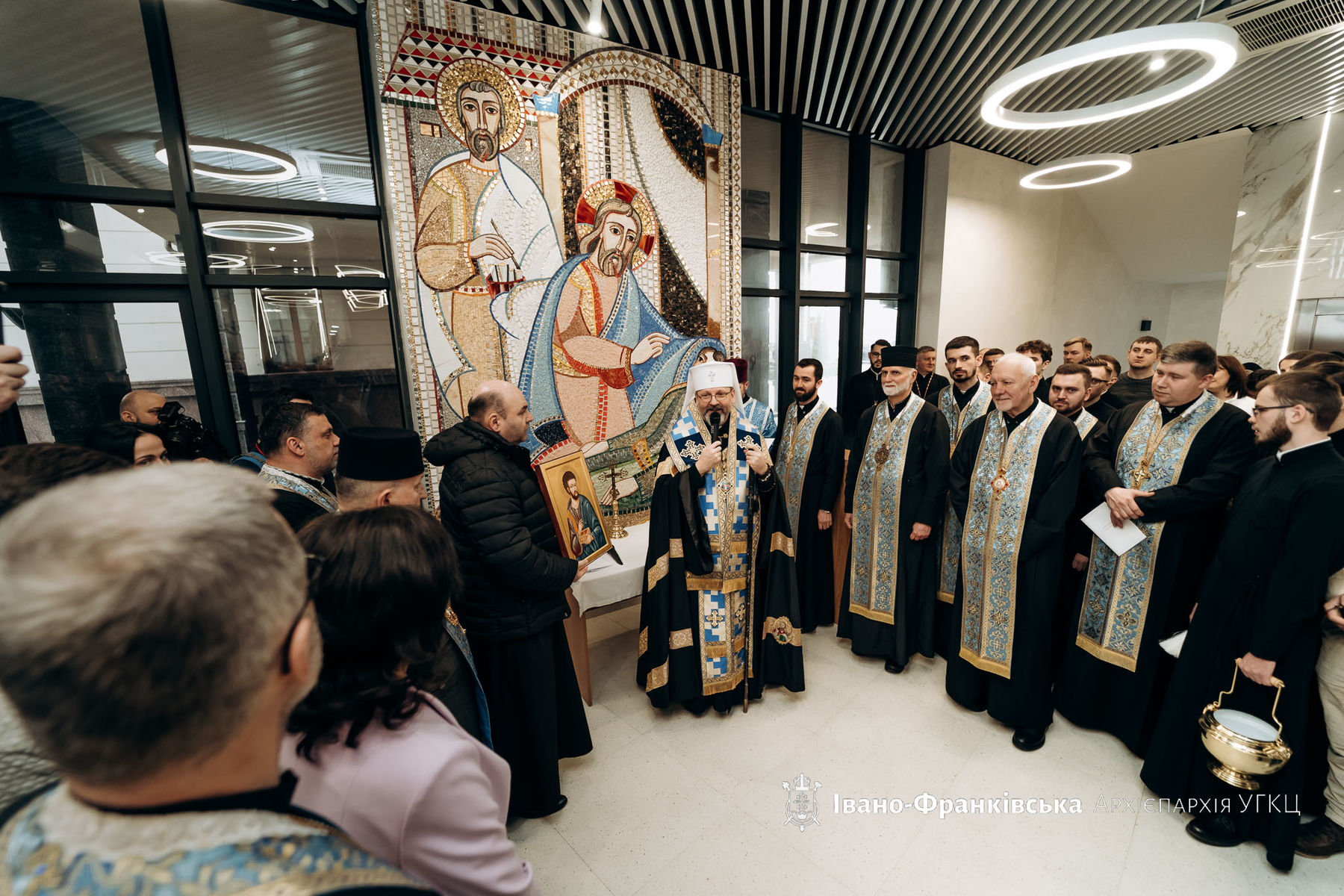 The grand opening of the clinic began with the Rite of Consecration performed by the Father and Head of the UGCC, His Beatitude Sviatoslav, in concelebration with Archbishop and Metropolitan of Ivano-Frankivsk, Bishop Volodymyr Viytyshyn, Metropolitan Ihor Vozniak, Metropolitan Borys Gudziak, Bishop Josaphat Moschych, and a nominee bishop Mykola Semenyshyn.
During the consecration, His Beatitude Sviatoslav greeted the audience with a welcoming speech in which he emphasized the need for physical and spiritual healing.
"We are receiving a unique gift from the Catholic Church, which stands in solidarity with Ukraine. This clinic is so needed today. We consecrate it so it may become a healing space for the suffering Ukrainian people," the Primate wished.
The Head of the UGCC added that healing is about the physical condition and the recovery of fullness of life and integrity.
"A modern clinic is fundamental for our people today. It is God's will to get the institution operated after so many years of work in a difficult time of war. As a result, people who may not have been able to receive medical care elsewhere will receive it here at the highest level," said the Primate.
According to His Beatitude, the St. Luke's Clinic is the fruit of the Universal Catholic Church, all donors, benefactors, and employees.
Hence, the Head of the UGCC presented a symbolic gift for the clinic — an icon of St. Luke the Apostle, in whose honor it is named, and a certificate of appreciation for diligent work to the vice-economist of the Ivano-Frankivsk Archeparchy, Fr. Andriy Maksymiv.
Hereafter, Metropolitan Volodymyr shared the story of creating the Diagnostic and Treatment Center: "When we started working on the clinic, there was no war — we lived in peace. We worked, developed, and prayed in our family. But today, in this difficult moment, we see tomorrow when we will heal our wounds. I think we will heal them together, and with our joint prayer, we will cover the invisible wounds — the spiritual ones."
Thereafter, His Beatitude Sviatoslav performed the rite of blessing the clinic with consecrated water.
At the end of the event, the clergy, management, and representatives of medical and educational institutions had a tour around the institution.
The UGCC Department of Information
based on the materials of the Information Department of the Ivano-Frankivsk Archeparchy of the UGCC
Locations
See also