Eparchy of Saskatoon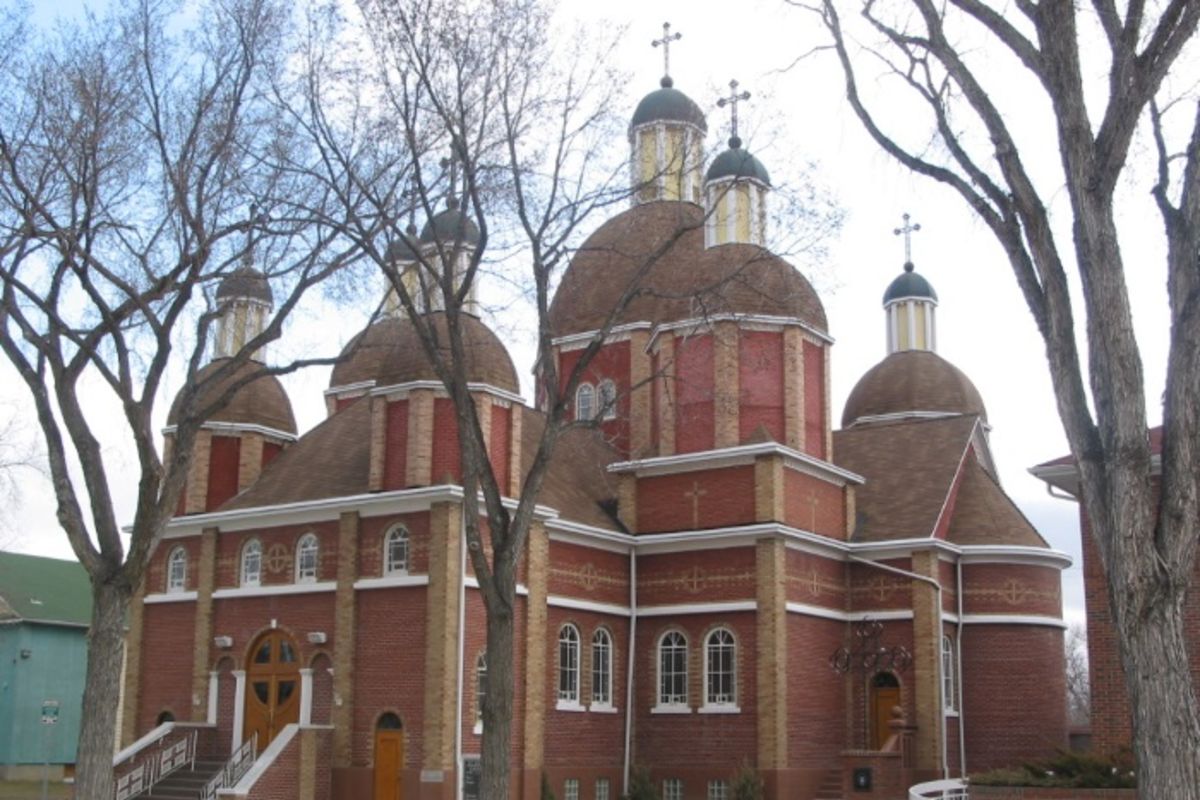 About
The eparchy of Saskatoon (Ukrainian Catholic Eparchy of Saskatoon) is an eparchy of the Ukrainian Greek Catholic Church within the Metropolitanate of Winnipeg. The eparchy was founded on November 3, 1956. Andriy (Roboretsky) became the first bishop. The jurisdiction of the eparchy extends to the province of Saskatchewan (Canada). Thus, the total area of the eparchy is 651,036 km2, and the population is about 1,053,960 people.
The division into protopresbyters:


a) Saskatoon Deanery

Saskatoon (3 parishes)
Bodnari;
Borscht;
Гаврилюки;
Lanivtsi;
Prudhom;
Smooths;
Vonda.
b) Dean's Office Regina
Regina (2 parishes);
Chaplin;
Glentworth;
Hodgville;
Moose-Joe;
Montmartre;
Candy;
Greenfel;
Tribune;
Weyburn.
c) Yorkton Deanery
Kanora;
Antonovka;
Buchach;
Buchanan;
Czechs;
Benefits;
Hazel Dill;
High Thor;
Gregory;
Invermei;
Kovalivka;
Kuziv-Tyaziv;
Prisville;
Frame;
Vasyliv;
Wicks;
Kamsak;
Arran;
Arran-Spring;
Benito;
Bobulintsi;
Dnipro;
Glen Elder-Denbari;
Chickens;
Madge Lake;
Maybridge;
Mink;
Omside;
Pones Lake;
Sven Plain;
Sven Riviera;
Tedmore;
Vadena;
Whitebitch;
Yorkton;
Beaver Dale;
Caldera;
Insinger;
Insinger-Farms;
Jedburg;
Millville;
Model-Farms;
Parverview;
Plain View;
Sheho;
Sheho-Farms;
Taffnell;
Whitesend;
Willowbrook;
Wrocston-Farms;
Ituna;
Beckenham;
Bedfordville;
Fenwood;
Good;
Goodow Farms;
Hubbard;
Hubbard Town;
Kellier (2 parishes);
Foam Lake;
Holar;
Red;
Wishert;
Wishert-Farms;
Vineyard.
d) Dean's Office of Prince Albert
Prince Albert;
Gronlid;
Milfort;
Nipavin;
Nipavin-Farms;
Сембург;
Cadworth;
Adamivko (Rostern-Farms);
Alvena;
Alvena-Farms;
Carpenter-Gori;
Humboldt;
Leningen;
Rostern;
Falcon;
St. Julian's;
Tway;
Wakau;
North Battleford;
Albertown;
Altiken;
Blaine Lake;
Huffford;
Corridor;
Orlov;
Radisson;
Spears;
Uhryniv;
Velichko.
According to statistics from 2014, the eparchy of Saskatoon consists of approximately 99 parishes (of various degrees of activity), in which about 29 priests perform their pastoral ministry, including 21 eparchial priests and 8 priests belonging to monastic communities or religious orders, 15 deacons., 17 nuns and about 6,340 Catholics.

In Saskatoon, there is the eparchial museum of Marian Art (about 2,000 exhibits) and the Metropolitan Andrey Sheptytsky Institute for University Youth; parishes have native schools and courses for young people (especially during summer vacations). For young people, there are summer educational and recreational homes.
There is also a Catholic school named after Bishop Vasyl Filevych with a Ukrainian bilingual program, one nursing home run by the sisters of St. Joseph, and three boarding houses for the elderly.
Residence of St. Basil is a 51 apartment for seniors, located on Montreal Street, 1722, and operates as a non-profit corporation. It is located near the Ukrainian Catholic Church of St. Basil. The Divine Liturgy is offered during the week in the Chapel. Organized classes are held in the evenings.
The residence of St. Yuri is a building located in Pleasant Hill. It is very clean and has many upgrades, including new floors, countertops, windows, lighting, stove, and roof. The residence is open to all nationalities. The Board of Directors oversees the activities of the residence, the ownership of which is registered in the Ukrainian Catholic Parish of St. George.
House of St. Joseph is a subsidiary of the Saskatoon region of health care, which is home to 80 residents. St. Joseph's House offers daily religious services and an emphasis on the Ukrainian way of life. Saskatchewan is truly a land of living sky, endless fields, and hardworking people. This is seen in the example of the House of St. Joseph. "We are blessed to serve our wonderful senior residents, many of whom are passionate and successful farmers who, through their dedication and tireless work, have built our province by providing bread for our tables. We are still reaping the fruits of their hard work and perseverance. It all starts with one small seed. All life is all about growth, upbringing, care, patience, and love. "
Residence of St. Volodymyr is a residential complex in Saskatoon (Saskatchewan, Canada) designed exclusively for adults and the elderly. The six buildings are conveniently located in a quiet resort town close to large shopping malls, banks, churches, offices, a bridge club, and convenient city buses. Residents can rent a premium-class apartment in the villa of St. Volodymyr or buy housing with the help of a rental program in the estate, castle, or courts. Apartments can be rented on the terrace. Residents of St. Volodymyr enjoy a variety of facilities on-site, including a dining room, a chapel, a business area, a library, 5-pin bowling alleys, a pool table and shuffleboard, a hairdresser, and amenities. About 350 people of different faiths and ethnic groups live in the residence of St. Volodymyr.
Location
Bishop
Since May 2, 2008, His Eminence Bishop Brian (Joseph) Baida has been the Ruling Bishop of the eparchy of Saskatoon. The cathedral of the eparchy of Saskatoon is St. George's Cathedral in Saskatoon (Saskatchewan, Canada).
History
The eparchy was founded on November 3, 1956, and Andriy (Roboretsky) was the first bishop (1956–1982). As of May 2, 2008, His Eminence is Reverend Brian Baida.

In the year of the eparchy's foundation (1956), there were about 35,000 believers, and 41 priests (29 eparchial and 12 monks), who served 24 parishes, 121 subsidiary churches, and 23 mission villages.
The eparchy employed Redemptorist monks (headquartered in Yorkton), sisters-servants (ran a girls' academy in Yorkton), Sisters-Josephites (ran a sacristy and a nursing home in Saskatoon), and Brothers of Christian schools (led board for boys in Yorkton). Within the eparchy, there were various organizations of the Catholic action (about 3,000 members).
In 2001, the Canadian census indicated 17,000 Ukrainian Catholics in Saskatchewan, but according to the eparchy, the number of believers since 2004 has not exceeded 13,000. As of 2007, there are 99 church communities, 32 priests (eparchial and monks), 5 deacons, and 12,700 faithful. There are 17 nuns and 14 monks in separate monastic congregations.
It is also worth mentioning all the Ruling Bishops of this eparchy, namely Bishop Andriy Roboretsky (1951–1982), Bishop Vasyl Filevych (1982–1995), Bishop Cornelius Pasichny (1995–1998), Bishop Mykhailo Vivchar (2000–2008).) and Bishop Brian Baida (2008-present).
Contacts
Address: 214 Avenue M South, Saskatoon, Saskatchewan S7 M 2 K4, Canada
Phone: +1 (306) 653-01-38
Fax: +1 (306) 665-25-69
Email: [email protected]
Website: skeparchy.org