Twelve years since His Beatitude Sviatoslav, the Head of the UGCC, was enthroned. How was it?
Today marks twelve years since the new Father and Head of the UGCC, His Beatitude Sviatoslav, elected by the Electoral Synod of Bishops of the UGCC and ratified by Ecumenical Patriarch Benedict XVI, ascended the throne.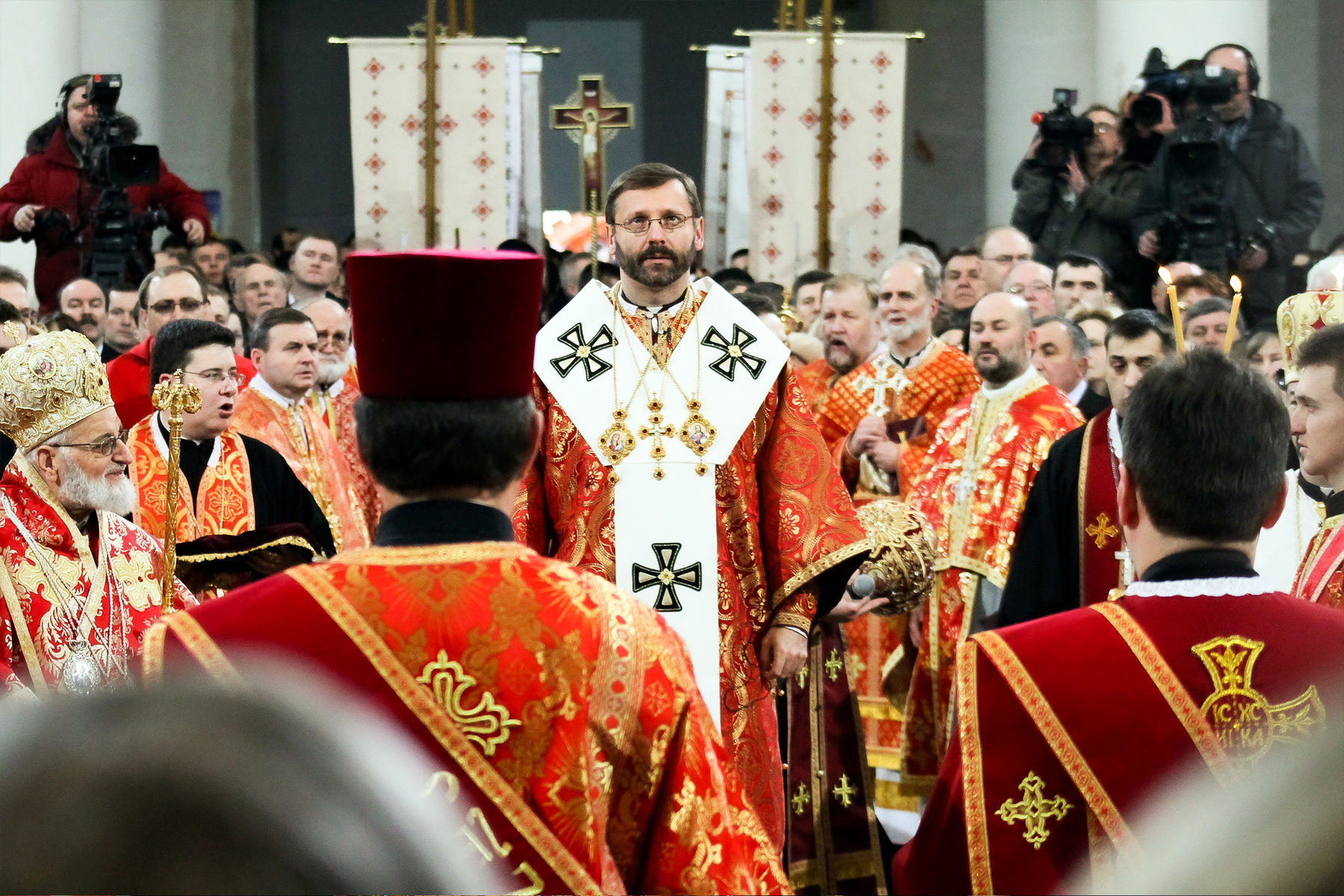 His Beatitude Sviatoslav was enthroned on March 27, 2011, on Holy Cross Sunday, at the Patriarchal Cathedral of the Resurrection of Christ in Kyiv. The celebration began with a procession from the Church of the Annunciation of the Blessed Virgin Mary to the main Greek Catholic Cathedral. The procession was attended by over 350 priests, 60 bishops of the Ukrainian Greek Catholic Church and other Eastern Catholic Churches, representatives of the Apostolic See, European bishops' conferences, and hierarchs of the Roman Catholic Church in Ukraine.
The enthronement began with the proclamation by the then Secretary of the Synod of Bishops of the UGCC, Bishop Bohdan Dziurakh, of the decision to elect Bishop Sviatoslav Shevchuk as Head of the UGCC. The newly elected Primate then ascended the bishop's pulpit, receiving patriarchal insignia to the chant 'Axios!'
The rite of installation of His Beatitude Sviatoslav to the patriarchal throne was performed by the then Metropolitan of Przemysl and Warsaw, Ivan Martyniak, Metropolitan of Philadelphia, Stepan Soroka, and Metropolitan of Winnipeg, Lavrentiy Hutsulyak, Apostolic Exarch for Ukrainians in France, Switzerland and the Benelux countries Mykhailo Hrynchyshyn, Bishop Julian Voronovsky of Sambir-Drohobych, and Bishop Emeritus of Stamford Diocese Vasyl Losten.
"Today, we, the successors of Volodymyr's baptism, feel unity and continuity with our history and tradition, and we inherit the precious legacy of our great predecessors: the servant of God Metropolitan Andrey Sheptytsky, Patriarchs Yosyf, Myroslav Ivan, and Lubomyr. Today, these men bless us with the warm hand of Lubomyr and make this treasure alive, eloquent, and enlightening for the modern Ukrainian. 'The 'holiness of the united people of God' is and will be the strategy for the development of our Church!" said His Beatitude Sviatoslav in his first patriarchal address.
Uniting in prayer today, we thank God for our Patriarch Sviatoslav, who bravely leads our Church through the hardships of war. May the Mother of God, Kyiv Oranta, keep him under her mighty maternal protection!
The UGCC Department for Information
See also