Representatives of the All-Ukrainian Council of Churches and Religious Organizations visited Saint Sophia Cathedral in Rome
January 24, 2023, 20:05
55
At the invitation of His Beatitude Sviatoslav, the Father and Head of the UGCC, the All-Ukrainian Council of Churches and Religious Organizations (AUCCRO) visited St. Sophia Cathedral in Rome, the memorial museum-premises of Patriarch Josyf Slipyj and the headquarters of Society of St. Sophia. The visit to the patriarchal seat of the UGCC in Rome took place during the working trip of the UGCC to the Apostolic capital.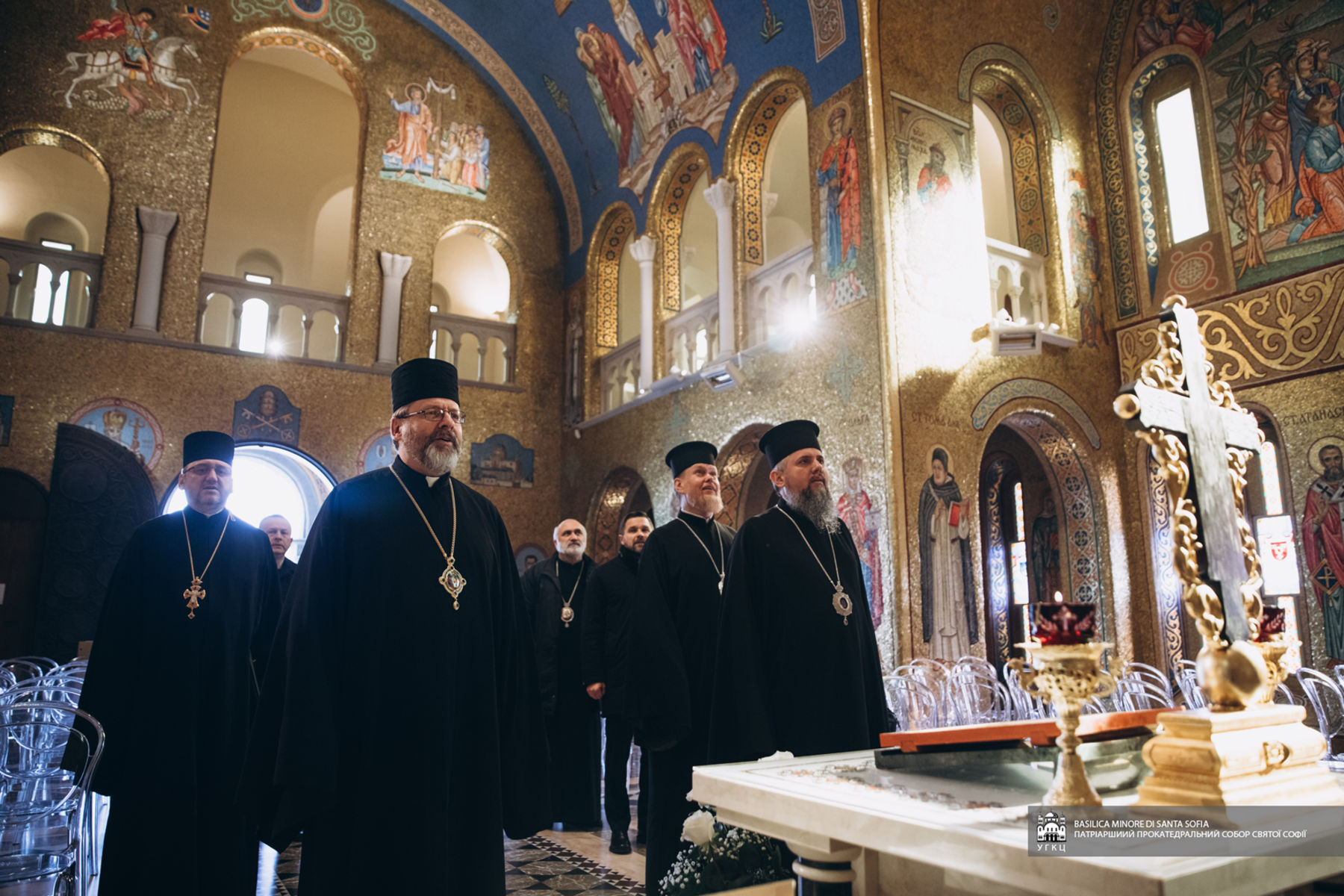 Welcoming the delegation members in the cathedral of Saint Sophia in Rome, His Beatitude Sviatoslav told the story of the foundation of this shrine, its historical significance for the Ukrainian people, and pastoral ministry in modern circumstances. The Head of the UGCC emphasized that "this cathedral has always been a symbol of the unity of the Ukrainian people scattered abroad, and in current circumstances, particularly after the full-scale Russian invasion, it has become a vital spiritual and humanitarian center for many refugees from Ukraine. From here, humanitarian cargo leaves for different regions of Ukraine every week."
The Head of the UGCC commented that the heads of Churches and religious organizations visiting the Saint Sophia Cathedral have a unique opportunity to be on Ukrainian land in the Eternal City. Exactly "from where Patriarch Josyf Slipyj spoke to the entire Christian world with the voice of the silent and persecuted Church in Ukraine, where he created the Ukrainian world on principles of faith and science."
His Beatitude Sviatoslav also presented to the religious leaders from Ukraine, His Eminence Bishop Dionisio exarch for Ukrainians of the Byzantine rite in Italy, and spoke about the development of the UGCC exarchate on the Apennine Peninsula.
Members of AUCCRO had the opportunity to visit the museum-premises of Patriarch Slipyj and get acquainted with the exhibits of the life and clothes of the Siberian convict, which he brought as "witnesses of his Siberian exile."
On the occasion of the historic visit of AUCCRO to the Cathedral of St. Sophia, the religious leaders received commemorative medals about the cathedral from the limited collection of Patriarch Yosyf and a collection of the Vatican's Christmas philatelic stamps dedicated to the theme of peace in Ukraine.
The UGCC Department for Information
See also