Pope appeals to the people who denied the right to creation, — Head of the UGCC on the letter of the Holy See to Ukrainians
November 25, 2022, 16:09
9
Today, in the ninth month after the beginning of the full-scale Russian invasion of Ukraine, a letter from Pope Francis to the Ukrainian people has been published in the Vatican newspaper Osservatore Romano. His Beatitude Svyatoslav, Head of the UGCC, called this gesture of the Holy Father "unprecedented" and thanked him for his "fatherly closeness to the Ukrainian people."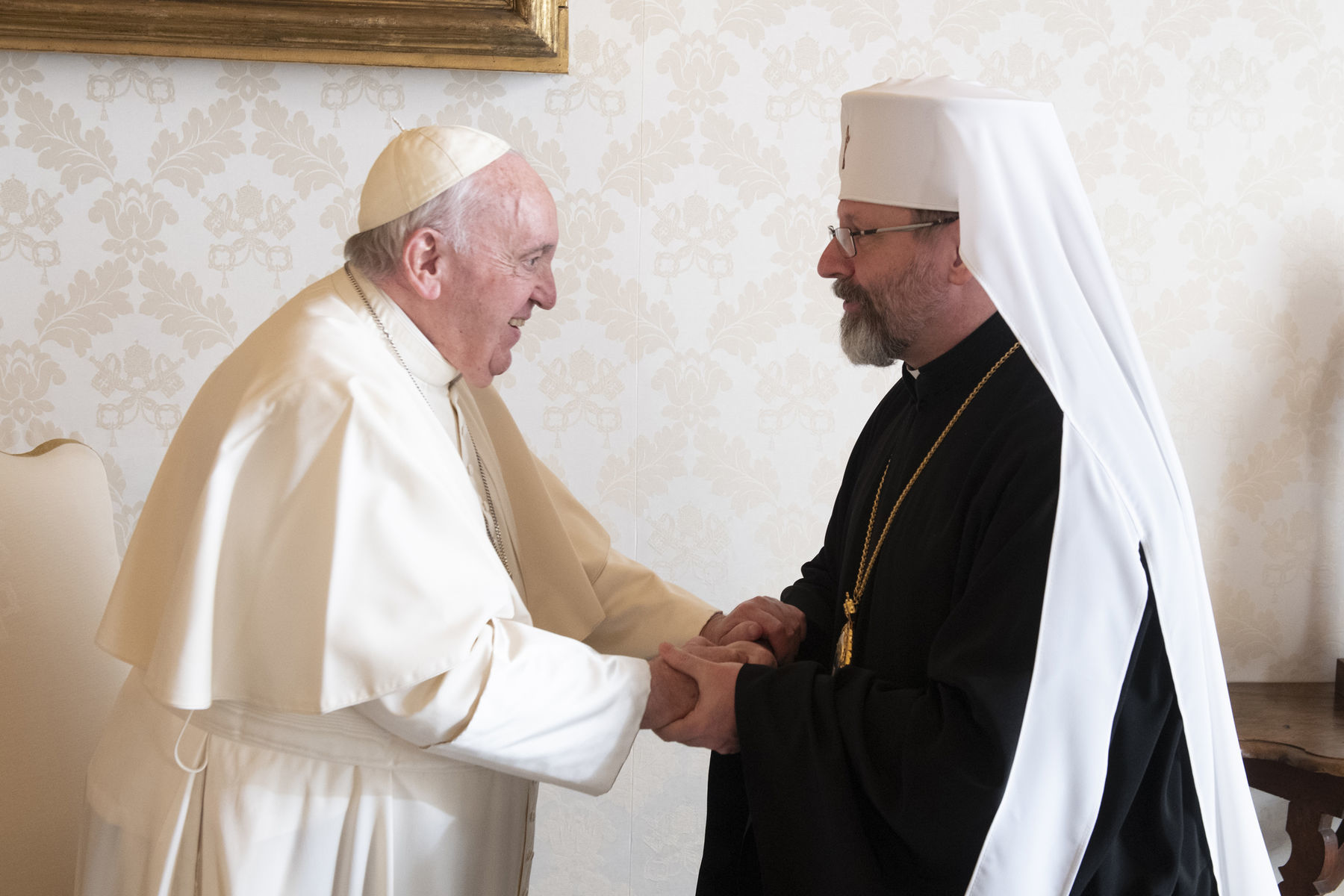 Зустріч Блаженнішого Святослава з Папою Франциском у Ватикані, 7 листопада 2022 року, фото: Vatican Media
Here is the comment of the Head of the UGCC:
We are grateful to the Holy Father for the pastoral letter he addressed to the Ukrainian people after the beginning of the unjust and insane aggression of Russia against Ukraine.
During my meeting with the Holy Father, which took place on November 7 in the Vatican, I told him about the pain and suffering of the Ukrainian people. I presented to him the terrible consequences of the crimes of Russian soldiers against the civilian population, told him about the humanitarian catastrophe, and entrusted our long-suffering people to his prayers and concern. I asked the Holy Father to show our people a gesture of his paternal care and closeness.
We are grateful to His Holiness for his words of support and his expressions of solidarity with us. The Ukrainian Greek-Catholic Church continues its service in war conditions and is close to those most in need. We believe that Pope's words will touch the long-suffering people, and we also hope they will be heard by those who started this "blasphemous" war.
For Ukrainians, Pope's letter is genuinely essential because the leaders of the aggressor state denied our right to exist, our identity, culture, language, and the Church. And Pope Francis appeals to these people, from whom they want to take away such a right, and recognizes our state's sovereignty and subjectivity. Moreover, the Holy Father expresses his admiration for the resilience of the Ukrainian people.
But the most important thing is the pastoral character of this letter, which the Pope wanted to write to our people precisely at the beginning of the Christmas Lent, which this year, by God's miraculous providence, begins in the Gregorian and Julian calendars simultaneously. And although we will celebrate Christmas on two different dates, Christmas is a holiday of peace because the King of peace is coming into the world. On the night of his birth, we hear the annunciation of the angelic choir proclaiming: "Glory to God in the highest heaven, and on earth peace to those on whom his favor rests". We genuinely believe that Ukraine will soon hear this angelic singing.
Secretariat of the Head of the UGCC at the Holy See (Rome)
See also