On the Day of Ukrainian Statehood, religious leaders prayed for Ukraine in Sophia of Kyiv
On Thursday, July 28, on the occasion of the prayer celebration of the memory Prince Volodymyr, Equal to the Apostles, and the Day of Ukrainian Statehood, a joint prayer for Ukraine was held in the Saint Sophia Cathedral in Kyiv. The prayer was attended by members of the All-Ukrainian Council of Churches and Religious Organizations, particularly the Father and Head of the Ukrainian Greek-Catholic Church, His Beatitude Sviatoslav.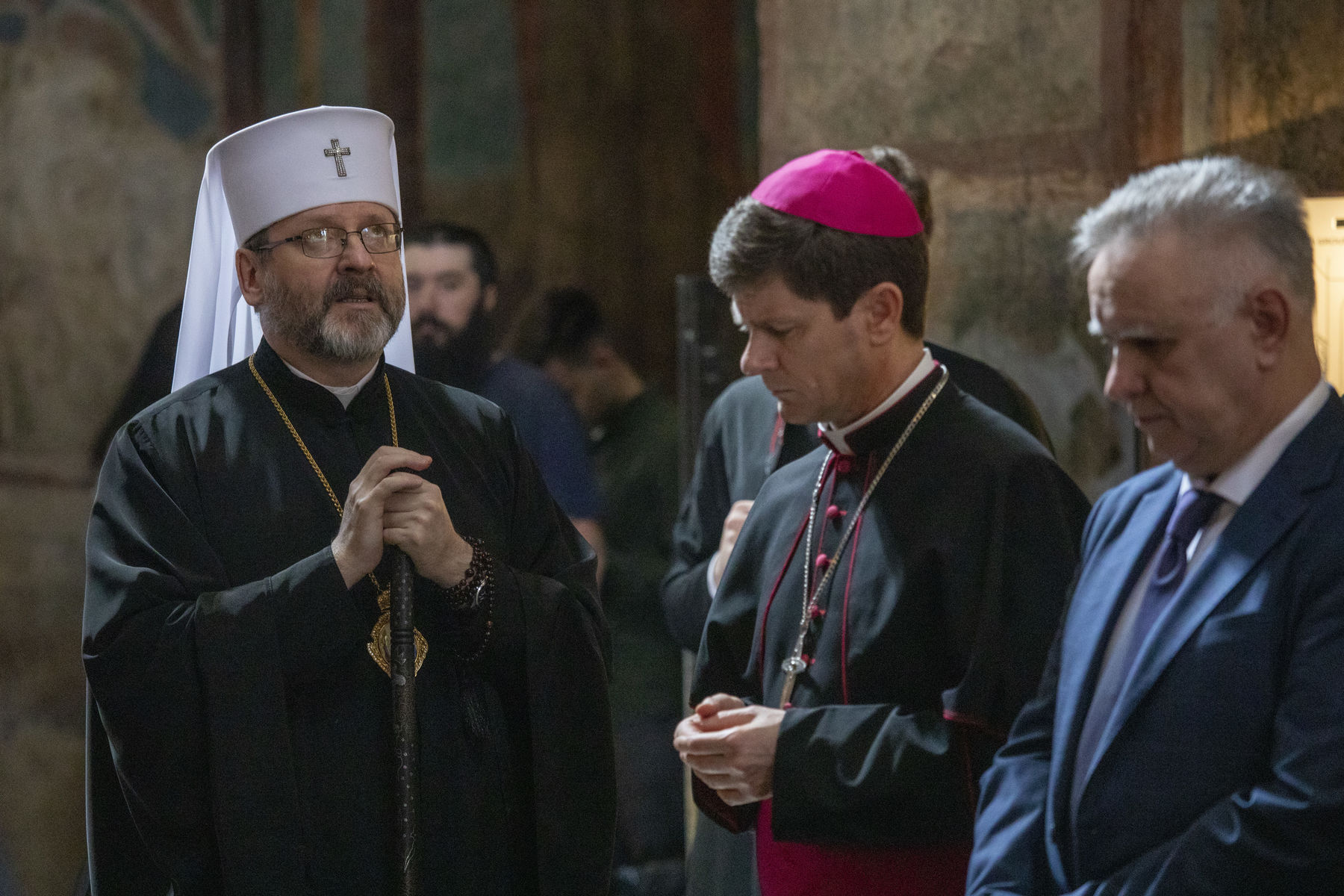 The joint prayer began with the prayer "Our Father," then each of the presents turned to God in his own words.
His Beatitude Sviatoslav said the following prayer:
"Our God, Creator and Savior, Father, Son, and Holy Spirit, standing before Your face today, we thank You for the faith of the venerable Prince Volodymyr. Through him, we thank You for the gift of Baptism, the gift of the birth of God's people here in Kyiv, and the gift of statehood for this Your people. Today, standing in this holy temple, we beg You, our God, to send down Your heavenly wisdom to this people. Give us in Your knowledge to build, establish and defend our State, in Your Divine wisdom to form our society based on Your eternal God's law.
Give wisdom to our leaders to serve their people the same way the pious Prince Volodymyr served them. So, likewise, give knowledge to our army so that with Your strength, they will defeat the enemy attacking us today. Give Your wisdom to all those who are called to develop all aspects of the life of this nation. Give us the knowledge to live according to Your holy will.
Kyiv Oranta, Most Holy Theotokos, Immovable Wall, cover our people, who are bleeding in that war, with Your heavenly omophorion. Saints Borys and Hlib, our first saints, intercede for these God's people. Let the holy majestic name of the Father, Son, and Holy Spirit be glorified and sanctified in his life, his suffering, even in his death, and therefore in his glorification, now, and always, forever and ever. Amen."
The prayer ended with the performance of the spiritual hymn of Ukraine,
"God, the Great One."
The UGCC Department for Information
Related data