Having the opportunity to be among you today is a great gift from God: Head of the UGCC addressed the clergy of the Wroclaw-Koszalin Eparchy
On May 23, a meeting of the bishops of the Permanent Synod of the UGCC, presided by His Beatitude Sviatoslav, with representatives of the clergy of the Wroclaw-Koszalin Eparchy of the UGCC was held in Wroclaw.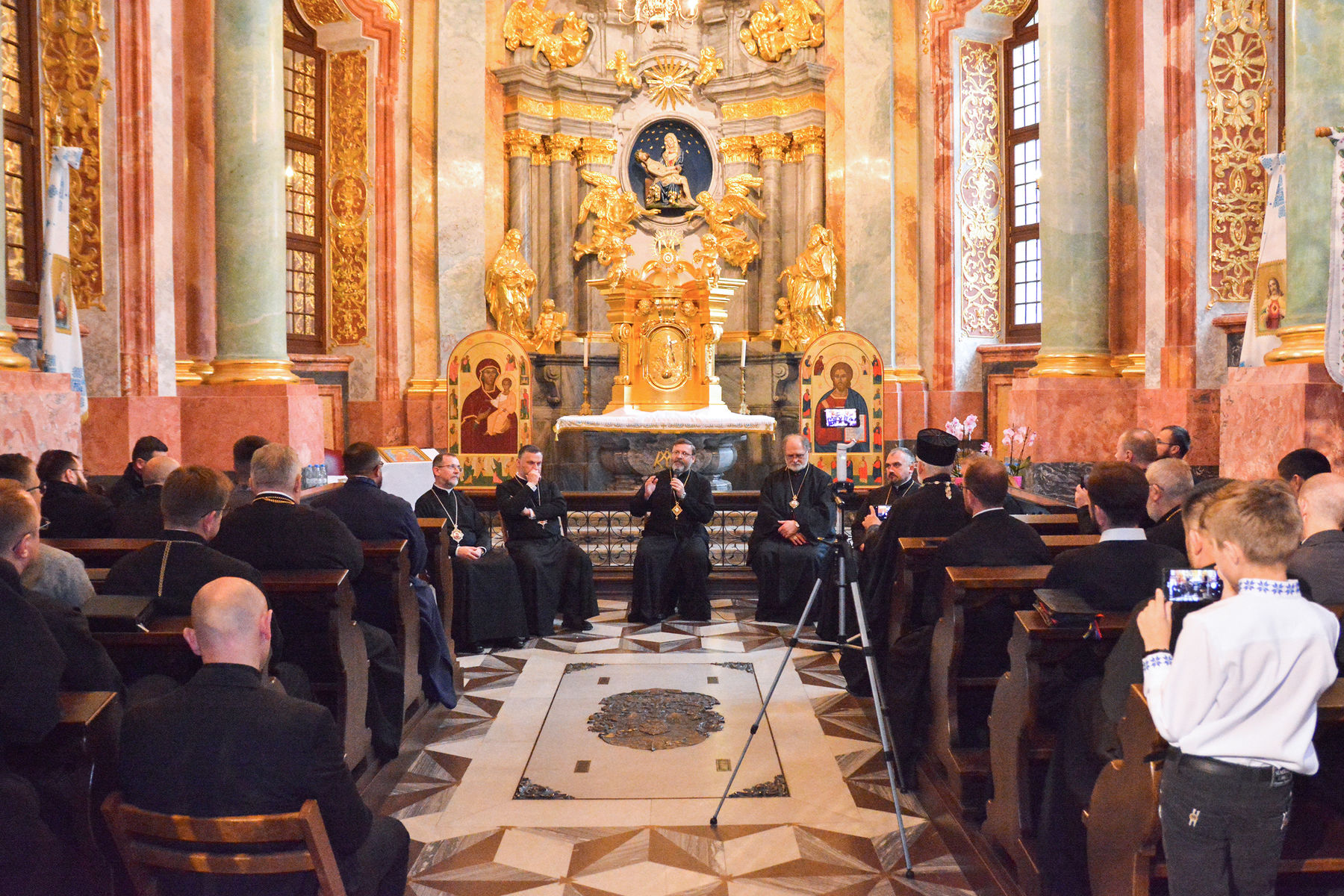 "Thank you for coming from different parts of Western Poland to share this unique opportunity to be together, to communicate, to revere each other, and to deliberate how we should live further and serve God and the long-suffering Ukrainian people," His Beatitude Sviatoslav addressed the clergy.
The Head of the Church sent them greetings from all the priests in Ukraine and noted that most of the Kyiv Archeparchy had suffered dramatically since the first days of the war.
"I am very proud of our bishops and priests who have shown themselves to be God's people and are worthy to be called Christ's priests under conditions of war," the patriarch emphasized.
He expressed sincere gratitude to the clergy of Poland for their constant support of the Ukrainian people, both prayerful and humanitarian. He also thanked them for generously opening the doors of their homes and parishes, their hearts to every Ukrainian in need. He also noted that the clergy should fulfill the mission of healing the spiritual state of the people: "War causes enormous trauma. There are visible injuries when someone loses an arm or a leg, but there are many invisible ones. As the experience of other nations shows, sometimes invisible wounds tend to kill more than enemy bullets on the front."
The centerpiece of this meeting was Ukrainian refugees who were forced to leave for different parts of the world because of the war and seek their native community and spiritual support.
Each member of the Permanent Synod of the UGCC present had the opportunity to address the priests of the Wroclaw-Koszalin Eparchy.
Bishop Bohdan Dziurakh, Apostolic Exarch in Germany and Scandinavia, noted that the exarchate has also accepted more than 1 million Ukrainian refugees since the beginning of the war: "The first thing they are searching for is the Ukrainian community. We have to be prepared for many to stay among us; thus, we must create a spiritual homeland for them so that they find something that can give them hope and heal their wounds."
Concluding, the Secretary of the Synod of Bishops of the UGCC, Bishop Andriy Khimyak, drew attention to the need of the Church for priests to serve in dioceses and exarchates where there are millions of Ukrainian refugees. He called on the clergy to pray for new vocations and to care for their successors.
Please be advised that from May 23 to 26, a meeting of the Permanent Synod of Bishops of the UGCC takes place in Wroclaw.
The UGCC Department for Information
See also