Dmytro 'Da Vinci' Kotsiubailo, Hero of Ukraine, is buried at Askold's Grave in Kyiv
March 10, 2023, 23:00
116
On March 10, 2023, Dmytro Kotsiubailo, Hero of Ukraine, better known by his call-sign, Da Vinci, was buried at Askold's Grave in Kyiv. The funeral service was led by Bishop Yosyf Milian, Auxiliary Bishop of the Kyiv Archeparchy of the UGCC.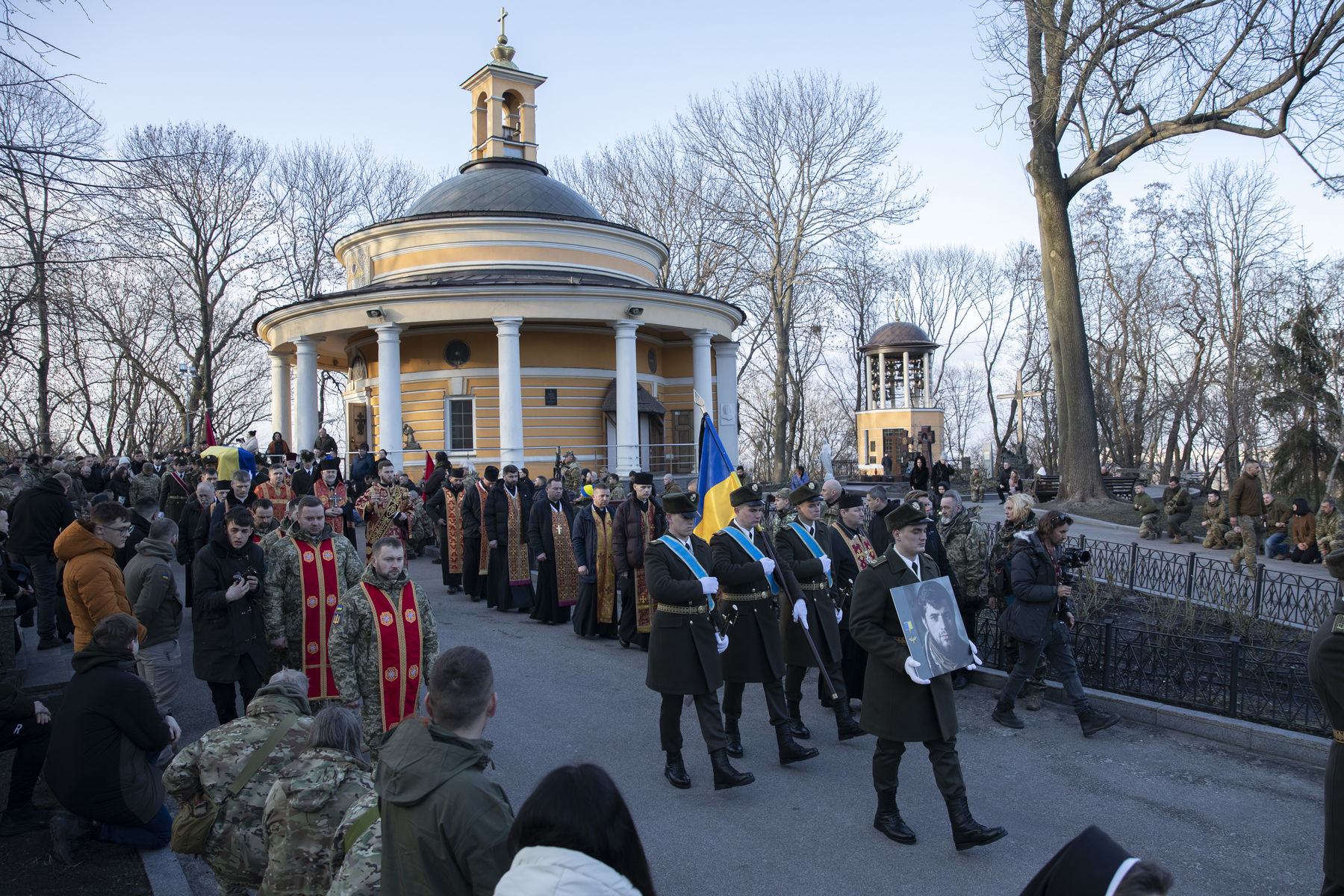 Priests, chaplains, comrades in arms, family, and friends of the fallen soldier Dmytro came to the Church of St. Nicholas, the Wonderworker of the UGCC, to say goodbye to the Hero of Ukraine.
Addressing all the present, Bishop Yosyf expressed his condolences to the family and friends on behalf of the Father and Head of the UGCC, His Beatitude Sviatoslav. "The Patriarch remembers how the military man Dmytro came to the Patriarchal Cathedral and prayed sincerely to God. Today we all pray for his eternal rest in the Kingdom of Heaven," he said.
The bishop also noted that Dmytro became a national hero and deserved recognition from the people and the state, receiving the Gold Star Order "Hero of Ukraine." "Dmytro is recognized by his people and the nation — these are the most important stars. But first of all, Dmytro was a servant of God, one of us in his church, a son of his mother, a son of the people, and a son who followed God in His Commandments. For He is his Creator, who poured extraordinary courage and love for his Ukraine into his soul," said Bishop Yosyf.
The bishop quoted the Holy Scriptures: "Greater love has no one than this: to lay down one's life for one's friends," inscribed on the cross to the Heroes of Kruty. He noted that the feat and brave death of the soldier Dmytro, his funeral at Askold's grave, lays the foundation for a "pantheon of heroes."
Dmytro Kotsiubailo was buried near the Church of St. Nicholas, the Wonderworker of the UGCC, at Askold's Grave.
Before that, the memorial and funeral services for the defender of Ukraine were held in the village of Bovshiv, Ivano-Frankivsk region, and then at St. Michael's Monastery and on Kyiv's Independence Square in Kyiv.
The UGCC Department for Information
based on the materials of the press service of Kyiv Archeparchy of the UGCC
See also