His Beatitude Sviatoslav to the monastic orders: Thank you that together we created a wide community of our Church, which this year served the weakest
At the end of the year, we thank the Lord for all the experience we have had together. Thank you all, brothers and sisters, for truly creating a broad community of our Church that this year wanted to serve the weakest and show motherly warmth to a confused, sad, and lonely person. We could warm others with the warmth of the Holy Spirit pulsating in our hearts and homes. This was said by the Head of the UGCC, His Beatitude Sviatoslav, on Thursday, December 17, during the annual meeting with the monks. This year, due to quarantine restrictions, the meeting took place online.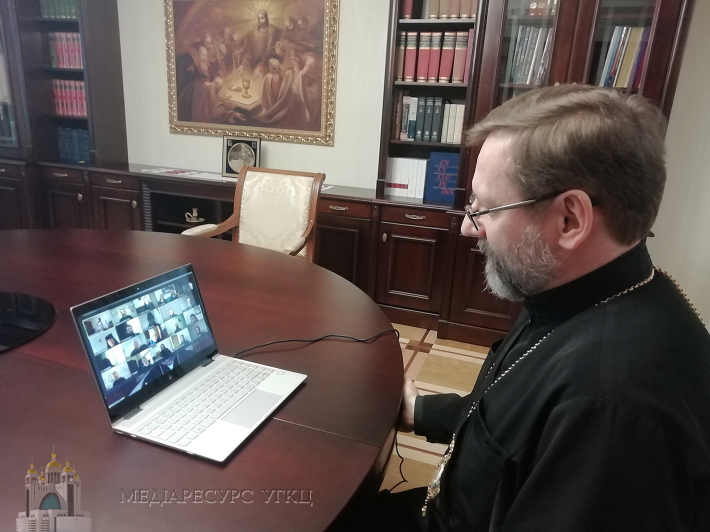 The online meeting was attended by abbots of monasteries from around the world. In particular, from Ukraine, Poland, Italy, Canada.
In his address to the consecrated persons, the Primate of the UGCC expressed his gratitude to the Patriarchal Commission for Monastic Affairs for their hard work. "I know how many challenges the commission has faced, thank you that you and your staff have successfully gone through all of them," he said.
The Head of the Church noted that a great achievement of the Patriarchal Commission this year was the beginning of the School of Spiritual Guidance Eleazar. "It is so important that in the bosom of our consecrated life and monastics, our youth and elders meet mature, educated, skilled spiritual fathers and mothers. Thank you that such a school has started its work," he said.
Summing up this year, the Head of the Church stressed that it was special because of the outbreak of the coronavirus pandemic, which unfortunately affected our communities around the world. He expressed gratitude for the fact that the monks from the very beginning took the instructions on safety rules very seriously. The Father and the Head of the Church thanked the consecrated persons for communication and for various examples of solidarity among monastic communities.
"This year we have discovered many gifts and opportunities. Today, together with you, I thank God for all the moments of humanness, deep prayer, ability to empathize, help each other, take on the pain of other people and the whole Church," he added.
According to him, God opens new horizons for us in the new year. "What will be the role of the Church in the post-coronavirus world? The Lord will reveal this to us, but we must have an open ear and heart to read God's will for our life and ministry," said His Beatitude Sviatoslav.
The UGCC Department for Information