His Beatitude Sviatoslav participated in celebration of Hungarian Archeparchy of Hajdúdorog
His Beatitude Sviatoslav paid a working visit to Hungary. Being invited by Metropolitan of Hungarian Greek Catholic Church Philip Kochish he took part in the consecration of Metropolitan Curia of Hungarian Greek Catholic Church in Debrecen, held on 29th of April.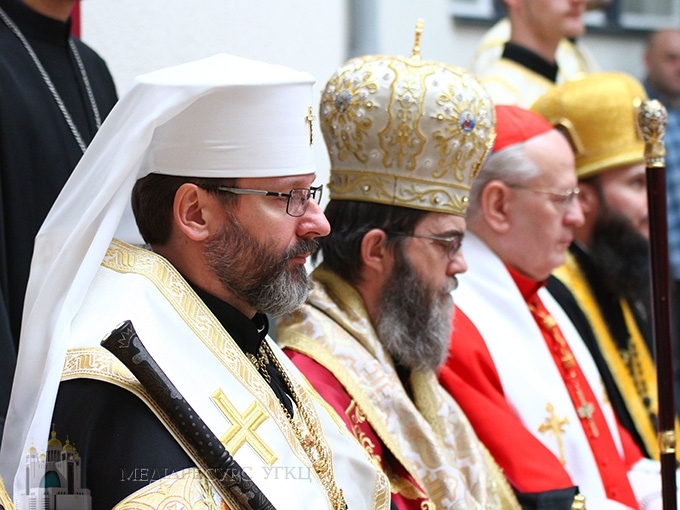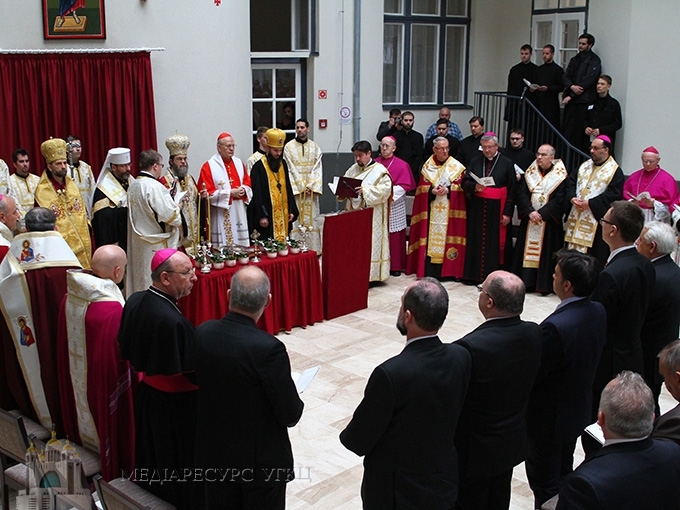 His Beatitude Sviatoslav led a Rite of consecration conjointly with Primate of Hungarian Roman Catholic Church cardinal Peter Erdo, Metropolitan of Hajdúdorog Philip Kochish, eparch of Miscolc Greek Catholic Eparchy, Athanasius Oros and apostolic administrator of Nyíregyháza Eparchy, fr Avel Sochka.
In prayer participated Greek Catholic bishops from different countries: bishop William Skurla, Metropolitan of Pittsburgh (USA); Ivan Babyak, Metropolitan of Prešov, Hungary; Đura Džudžar, Apostolic exarch of Serbia; Virgil Bercea, eparch of Oradea, Romania; Milan Shashik, eparch of Mukachevo; Roman Catholic bishops of Hungary.
Among the invited guests were the representatives of Hungarian government together with representatives of different religious confessions of Hungary. A delegation from Ukraine was headed by fr Oleh Oleksa, secretary of His Beatitude Sviatoslav, fr Damian Haboryi, priest for Ukrainians in Hungary and br Hypatius, O.S.B.M.
 His Beatitude Sviatoslav congratulated Metropolitan Philip and Hungarian clergy on this historical event and thanked for contribution in delivering spiritual care for Ukrainians who live in Hungary.
In the frame of celebration was held a meeting of Head of UGCC with Head of Roman Catholic Church in Hungary cardinal Erdo who invited His Beatitude Sviatoslav with an official visiting Budapest. During the meeting two sides agreed on granting mutual pastoral care all faithful of UGCC.
The UGCC Department for Information
Reference: press-service of UGCC in Hungary
Archeparchy of Hajdúdorog was established in 1912 by Franz Joseph I under the pressure of Hungarian government and confirmed by Pius X. It included 162 parishes. To the Archeparchy of Hajdúdorog belong Hungarians of east rite, mostly ancestors of Hungarian Ruthenians-Ukrainians.
March 20, 2015 Pope Francis gave Hungarian Greek Catholic Church a status of archeparchy. Eparchy of Hajdúdorog became an archeparchy, exarchate of Miskolc became a eparchy, and besides, there was created one more eparchy in Nyíregyháza by means of separating it from a previous eparchy of Hajdúdorog.