His Beatitude Sviatoslav met with the Head of the UN Office for the Coordination of Humanitarian Affairs
His Beatitude Sviatoslav, Father and Head of the Ukrainian Greek Catholic Church, met with Mr. Ignacio Leon-Garcia, Head of the UNOCHA Office in Ukraine, at the latter's request. The meeting took place in the administrative building of the Patriarchal Center of the UGCC.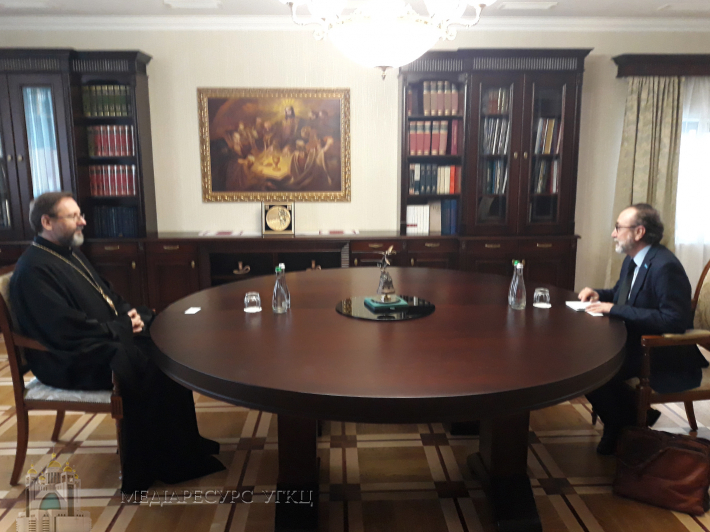 During the meeting, Mr. Ignacio Leon-Garcia, who is just beginning his mission as Head of the Office, stressed the main role played by the UGCC in the humanitarian affairs of Ukraine, in particular in the context of the war in Donbas. He paid special attention to the Church's response to the challenges posed by the occupation of Ukrainian territories and to the social service of the UGCC in the context of the pandemic. Assessing the structure of the social service of the UGCC, Mr. Chairman expressed his desire to cooperate with our Church, wishing to receive appropriate contacts in order to be able to serve directly those who suffer from the consequences of armed conflict and pandemic.
His Beatitude Sviatoslav then assured the Head of the Office that humanitarian issues of social service are in the center of the pastoral attention of the UGCC. The Head of the Church told him about the last message of the Synod of Bishops of the UGCC. "The topic we raised in the pastoral letter was poverty. As Christians, we respond to the challenge of poverty in the world, in particular in Ukraine, with certain actions and structures of ours," said the Primate of the UGCC.
The "Feeding the Hungry" campaign, which took place on Sunday, will continue. It aims to intensify social service in the basic cells of the church body, i.e. in parishes. "The UGCC has a structure - Caritas-Ukraine as well as the Department for Social Service of the Patriarchal Curia, which aims to coordinate and develop the quality of social service of the Church and her response to humanitarian issues both in Ukraine and around the world," added the Father and Head of the UGCC.
In the conversation, Mr. Ignacio Leon-Garcia noted that the Ukrainian Greek Catholic Church today is a leader in forming a new consciousness of solidarity in Ukraine. In particular, he singled out the activities of the Ukrainian Catholic University. According to him, it is education that will play a decisive role in the ability to respond systematically to today's challenges.
In conclusion, the parties agreed on further steps aimed at exchanging information on humanitarian needs and combating hybrid warfare in the context of misinformation, which is today one of the tools used against the people of Ukraine. They also emphasized the need to tell the truth about the situation in Ukraine, and thus work together for the good of the most vulnerable and most needy.
The UGCC Department for Information