Head and Father of UGCC congratulated "Marriage Meetings" on the beginning of its animators' National Congress
Our families need highly qualified professionals, who already having their own positive experience of family life, can help to pass through crisis and tests. A slogan chosen for the Congress of animators of "Marriage Meetings" Association of UGCC – "Be brave! Don't be afraid" is very deep and actual. These "specialists on family life" must have a great trust to the Lord who calls them to be the witnesses of God's will to everyone who, receiving a blessing in Matrimony, strive for living saint and pious life.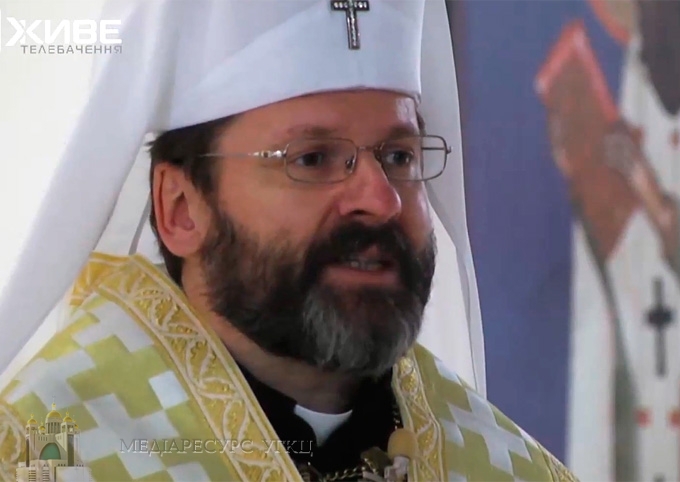 That's what Head and Father of UGCC His Beatitude Sviatoslav writes in his letter to the leaders of "Marriage Meetings" Association and its animators.
Besides, on 28th-30th of April in Lviv at Basilian Institute of philosophy and theology studies of Josyf Veliamyn Rutskyi, National Congress of animators of "Marriage Meetings" Association of UGCC with a slogan "Be brave! Don't be afraid" (Mk. 6,50) is being held.
"If you benefit from gifts God left for your sanctification, - Penance and Eucharist, living in praying and adhering to God's Commandments, He will strengthen your family with His blessing. Then every crisis turns into an opportunity to overcome own weaknesses and strengthen in God's power", His Beatitude Sviatoslav pointed out.
Head of Church wished everybody to turn this event to become another opportunity to thank God for received gifts. "Accept my wishes of abundant God's blessings, assistance of Holy Spirit in accomplishing your service. May the Most Holy Theotokos cover you under her holy omophorion. As an advance of abundant God's gifts for all the participants, I grant you my blessing of an archbishop and pray hardly for you to receive God's graces".
The UGCC Department for Information