Solidarity between Christians in Middle East and Ukraine in time of war: Patriarch Gregory III addresses the Ukrainian Greek Catholic Synod in Ukraine
Wednesday, 07 September 2016, 15:51
The Ukrainian Greek Catholic Patriarchal Synod opened today with a celebration of the Divine Liturgy at the historic St. George's Cathedral Sobor in Lviv. His Beatitude Sviatoslav, father and head of the Ukrainian Greek Catholic Church was the main celebrant.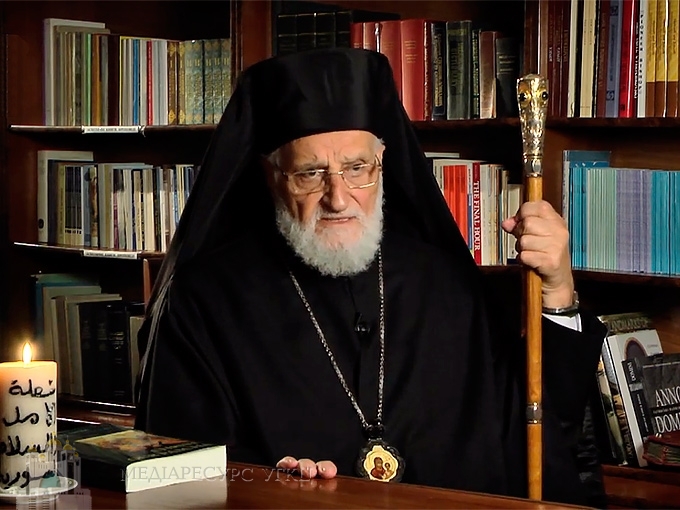 Forty bishops of the Ukrainian Greek Catholic Church from Ukraine, Western and Central Europe, North and South America and Australia were joined by His Beatitude Gregory III, the Melkite Catholic Patriarch of Antioch and All the East, Alexandria and Jerusalem. The week-long Synod has as its main theme "Diakonia - service to others," particlarly significant in a time of war and humanitarian crisis.
Patriarch Gregory III brought fraternal greetings and emphasized that relations with the UGCC are most important for his Melkite Greek Catholic Church and for other Christian Churches besieged by war in the Middle East. Discussions with the Patriarch centered around the topic of armed conflict and its devastating effect in Syria and Ukraine. Addressing the synodal fathers Patriarch Gregory emphasized that the UGCC is the largest of the Eastern Catholic Churches and that closer cooperation between Greek Catholics in the Middle East and Eastern Europe should take the form of regular episcopal encounters. He also proposed the creation of a joint formation program for future priests conducted in the Holy Land, the creation of joint theological and canonical commissions, and other initiatives.
The leaders of the two Churches expressed heartfelt solidarity with each other's suffering flocks and pledged to foster closer relations. His Beatitude Sviatoslav on behalf of the Bishops thanked Patriarch Gregory for his kind words of fraternity and solidarity. This was Patriarch Gregory's third visit to Ukraine. His charismatic words and energetic manner have endeared him to the people of Ukraine.
Department of Information UGCC