Presidential family paid respect to Lubomyr (Husar)
Monday, 05 June 2017, 11:29
President Petro Poroshenko and his wife Marina Poroshenko paid the last tribute to the former head of the UGCC Cardinal Lubomyr (Husar). The ceremony of paying tribute to His Beatitude Liubomyr is being currently held in the Patriarchal Cathedral of the Resurrection of Christ in Kyiv.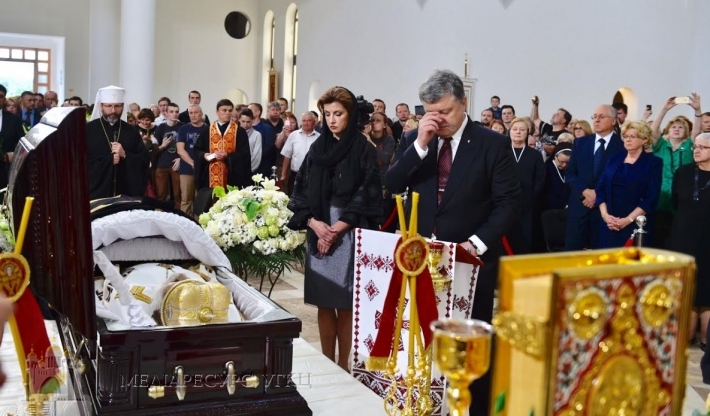 According to the press service of the President, the presidential couple paid tribute to His Beatitude with the moment of silence and bowed onto his coffin. Head of state also expressed condolences to the Cardinal's relatives.
After the funeral ceremony the President drew attention to the fact that a lot of people came to the Cathedral to say goodbye to a prominent Ukrainian, a unique personality, a great Christian. "He could find completely unique words for everyone. Many hours of conversation and meeting with him inspired despite the firm optimism his alleged external weakness. He is a true descendant of Andrew Sheptytsky, Iosyp Slipyy and played a vital role not only for the Ukrainian Greek Catholic Church, not only for the whole of our country, but for the global Ukrainian community," said Poroshenko.
According to the President, His Beatitude Lubomyr was uniting Ukraine, ensured its unity through his word, thought and prayer.
"His word has actually played a crucial role in the protection of Ukrainian liberty, freedom of Ukrainian territorial integrity and our Ukrainian sovereignty," he said.
"I firmly believe that now, when he passed away to the Lord, his prayer for Ukraine, for the Ukrainian people, for our future will be even more intensive. Eternal memory and may you rest in peace, Your Beatitude Lubomyr," said Poroshenko.
Patriarch Lubomyr (Husar) died on May 31. Numerous believers are coming to the Cathedral on the banks of the Dnieper in the morning to pay their last respects to His Beatitude Lubomyr. Previously, the farewell ceremony was held in Lviv.
His Beatitude Lubomyr will be buried in the crypt of the Patriarchal Cathedral on June 5.
Source:RISU