Pope Francis made a personal donation for building the UGCC cathedral in Kharkiv
Friday, 14 July 2017, 02:09
"I sincerely thank you for the words of greetings, for the renewal of unity of God's children, and for loyalty to the Roman Hierarch. Please be certain that I will necessarily pass this all to the Holy Father."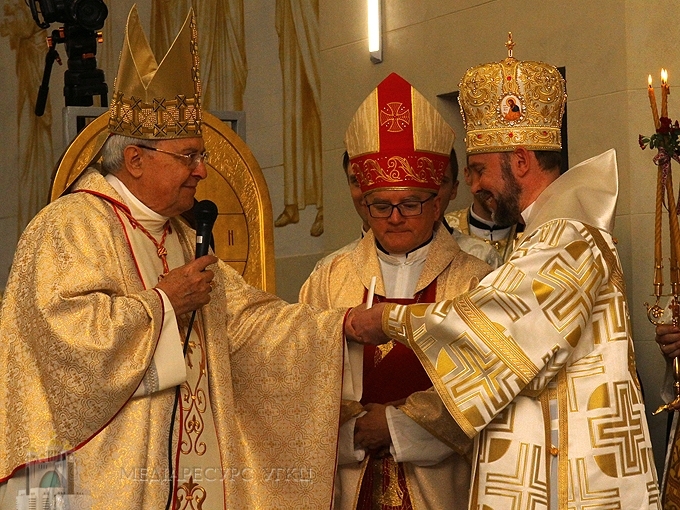 With such words Cardinal Leonardo Sandri, the prefect of the Congregation for Eastern Churches, addressed His Beatitude Sviatoslav in Kharkiv.
 "Actually, here grows and strengthens our faith, which has been given to us by our ancestors, and which has been preserved until now and is looking into the future. This faith won't break under any hardships and trials.There is hope here! I believe and pray, as well as the Pope does, that this community be a living one, which works for spreading peace and unity, in particular with our Orthodox brothers. Christian unity – is a guarantee of deep sensitivity towards the most needy, the older people, children and those who suffer. It is a sign of hope for a good future. I am leaving a gift to Bishop Vasyl, who is your pastor and who is leading your Church of living bricks of the community of Kharkiv exarchate," went on the guest from Vatican. The Cardinal presented a  memorable sign to the Bishop – Pope's medal, as well as material donation for building the cathedral and for development of the exarchate.
"I hope that by means of TV and photos we will see completion of the cathedral, its consecration, even in Rome," said in the end the prefect of the Congregation for Eastern Churches. After that the Cardinal Leonard Sandri gave a Papal Blessing. Then the consecration of dome crosses of the cathedral took place.
The UGCC Department for Information