His Beatitude Sviatoslav began a Pastoral Visit to Great Britain
Friday, 20 October 2017, 20:18
At the invitation of Bishop Hlib (Lonchyna), the Eparch of the Eparchy of the Holy Family of London, His Beatitude Sviatoslav, the Father and Head of the UGCC, comes for an official pastoral visit to Great Britain. The visit will last from Thursday, October 19 till Tuesday, October 31, 2017AD.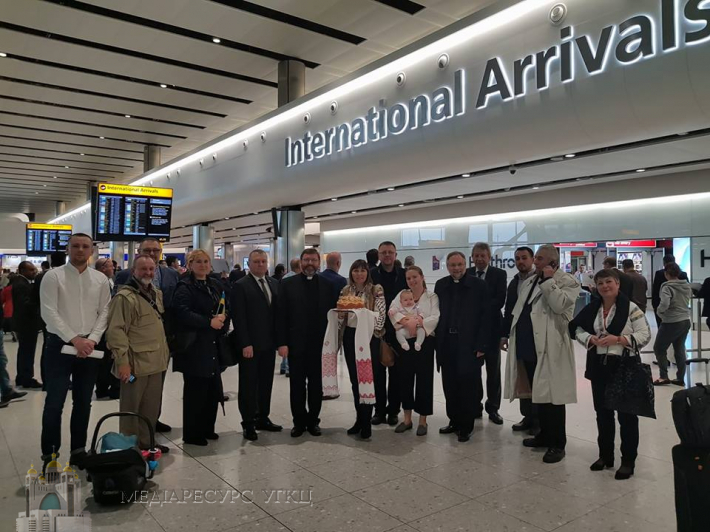 This event is especially important for the Ukrainian Greek Catholic Church in Great Britain because 2017 marks the 60th jubilee since its establishment – first as an exarchate, later as an eparchy. In order to celebrate this event, on October 20-23, His Beatitude Sviatoslav is going to visit the parishes of the UGCC in this country, and also is going to meet with numerous clerical and public organizations with the aim of strengthening ties and collaboration with the faithful of the Church in Great Britain.
During his visit to Great Britain His Beatitude will give a speech at the Royal Institute of International Affairs (Chatham House). Also, he will meet with the Ukrainian organizations of Great Britain and participate in the Convention of Eastern Catholic Bishops of Europe (October 26-29, 2017 AD), which will be hosted by Rt. Rev. Bishop Hlib at the Focolare Center (Welwyn Garden City). This year's topic is "Kerygma – Catechism – Mistagogia". Eastern Catholic Bishops will reflect about the proclamation of faith, about how to teach and explain it and how to spread Christian values.
The culmination of the conference on October 28, 2017 will be the solemn Divine Liturgy in the Westminster Cathedral. His Beatitude Sviatoslav will lead it and Cardinal Vincent Nicols, Archbishop of Westminster, will preach the homily. One more solemn Divine Liturgy will take place on October 29, 2017 AD in the cathedral of the Holy Family. It will be presided over by Archbishop Cyril (Vasil'), the Secretary of the Congregation for Eastern Churches and the homily - preached by His Beatitude Sviatoslav. During both Liturgies, a newly created Jubilee choir under the lead of maestro Bohdan Paraschuk will sing.
In order to receive additional information about the celebrations of the 60th anniversary of creating the exarchate/eparchy of the UGCC in Great Britain, or to receive accreditation for journalists, please contact:
Mroslava Matvijivska
Tel. +44 (0) 7595 896 781
E-mail: eparchy@ukrainianchurch.org.uk
The UGCC Department for Information
on the materials of: www.facebook.com/UkrainianCatholicCathedralOfTheHolyFamily