Hatred is evil force, empowering our society, - His Beatitude Sviatoslav on fifth Sunday after Pentecost
Monday, 10 July 2017, 22:18
The Word of God we heard today shows us Jesus Christ who restores dignity in a man. Evangelist Mathew tells a story about an event which happened on the opposite side of Sea of Galilee, territory of Gadarenes.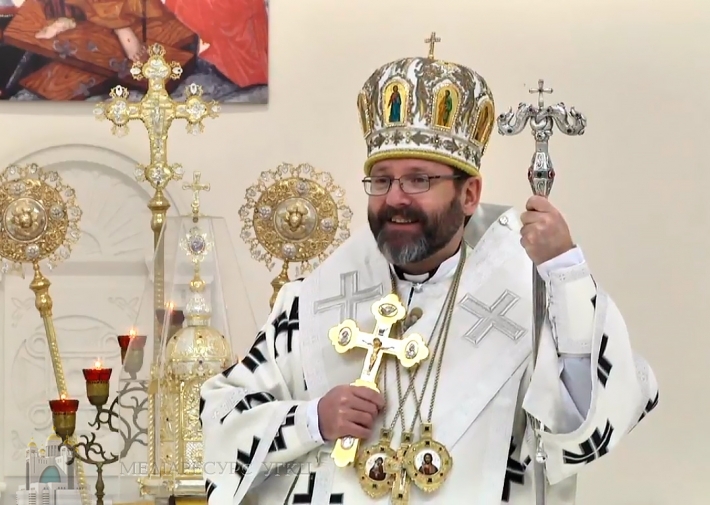 This place is open for visiting even today. But at the times of Jesus Christ this opposite side of the sea meant a different culture, different environment. In days of Roman Empire, it was a different territorial district of imperial division of an occupying government. Jesus Christ passes to another side as if intentionally, so to face fight against evil personally, to take the side of a man, who seeks for completeness of their respectable and free personal behavior and life itself.
With these words Father and Head of UGCC His Beatitude Sviatoslav started his homily during the Hierarchial Divine Liturgy on 9th of May in the Patriarchal Cathedral of the Resurrection of Christ of UGCC.
According to his words, just after Jesus Christ stepped into the territory of Gadarenes, two demoniacs approached Him. "Initially, they were menacing, people who were living in anger and hatred. Precisely it was a sign of their slavery in the hands of evil spirit. And another feature which is described by Mathew, is a fact of their living in tombs, in the caves of Necropolis, what was a city of dead, city of people, who were considered by that society as people without having any role and function in life", Head of Church explained.
The description of these people shows them also as those who lost their dignity. In another evangelical verses some other details are added to this description. According to them, they were not wearing clothes, were naked, basically were left of any kind of dignity in the eyes of society they were living in.
"Christ with the fact of his presence, his approach towards them, restores dignity in them, releases from an evil spirit, from everything what took their dignity away, - he added. – And when this miracle happened, this event impressed a lot, so people from that territory came out to see the released ones. However, they were feeling that the price what was paid for the dignity and liberty of those two was a lost flock of swine. Because this flock rushed from the rock into the sea, what caused material loss. People, looking at Christ, seeing those released demoniacs – do not accept Him. They ask Him to go back to His land".
The key to understanding this event lays in words of saint Gregory of Nyssa: "Everything finds its dignity where God is present". As it was said by His Beatitude Sviatoslav, every time a man falls into the hands of evil, he loses dignity. But God is a source of human's dignity. He is the One who grants this dignity. And, every time a person gets into the hands of evil, or when they satisfy their meanest desires, they fall into sin, lose the image of God within her. "When a person is being brought to the hands of hatred, their behavior changes into unhuman, it becomes animal-like. And God is the only one who doesn't take dignity and liberty away, but, on the contrary, gives it back to them and becomes source of theirs", he proceeded on.
Head of Church is convinced that this event happens to all of us constantly. "We very frequently assume that, using not too pure means for reaching the goal, we become stronger and can rule over others. It seems to us that if we treat others with anger and hatred, we will rule over them. Hatred is an evil force that starts empowering our society".
As His Beatitude Sviatoslav said, hatred is present among politicians, state servants, and even public activists, who "fuming with anger crave for possessing dignity for them, their political power and want to say that for us, mere citizens, this is the exact way of defending our country from the aggressor and evil".
"Currently, the cult of hatred, aggression is a key to success. Let us look at world's communities! The one who starts the war – becomes a successful politician. Observing these kinds of tendencies of a modern culture, saint John Paul II said, that because of the hatred, the world, modern culture and Europe go back into the caves. Since hatred hasn't formed anything yet, as righteous metropolitan Andrey Sheptytsky used to teach. It takes dignity away from a person and leads to slavery, possessed by evil. We, who are Christians, have to discover that in Him we find the source of our dignity", Head of UGCC said.
That's God who is our Redeemer, the source of our personal and national dignity, as free people in a free country", the major Archbishop summed up.
The UGCC Department for Information