Funeral Services held for +Bishop Richard Seminack in Philadelphia Cathedral of the Immaculate Conception
Friday, 02 September 2016, 12:37
Funeral Services were held for the late +Bishop Richard Seminack on Friday, August 26, 2016 at the Ukrainian Catholic Cathedral of the Immaculate Conception. The main celebrant at the Hierarchical Divine Liturgy was Metropolitan-Archbishop Stefan Soroka. Concelebrating bishops included Bishop Paul Chomnycky, OSBM, Stamford Eparchy; Bishop John Bura, Auxiliary Bishop, Philadelphia Archeparchy; Bishop-emeritus Basil Losten, Stamford Eparchy; Metropolitan-Archbishop William Skurla, Byzantine Catholic Archeparchy of Pittsburgh; Bishop Timothy Senior, Auxiliary Bishop, Latin Catholic Archdiocese of Philadelphia and Rector of Saint Charles Borromeo Seminary; Bishop John Michael Botean, Romanian Catholic Eparchy of St George in Canton; and Bishop-emeritus Robert Moskal, Eparchy of St. Josaphat in Parma, Ohio.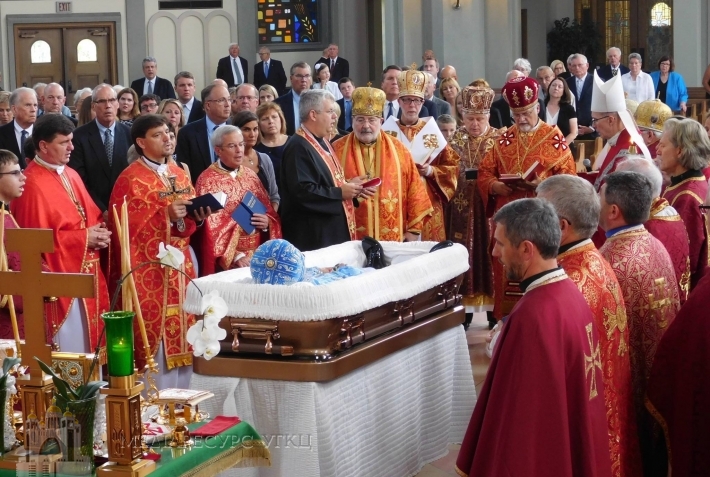 During the Divine Liturgy, Bishop-emeritus Moskal delivered the homily in Ukrainian and Metropolitan-Archbishop Soroka gave the homily in English.
In his homily, Bishop Moskal described the late Bishop Richard as a loyal son of our Ukrainian Greek Catholic Church. His parents brought Richard up according to the rites and traditions of our Church. At an early age, Richard heard a calling from God to become a priest and entered the Minor Seminary, St. Basil's in Stamford, Connecticut. He then continued his study of theology in Washington, D.C. and was ordained a priest by the late Metropolitan-Archbishop Ambrose Senyshyn.
Wherever Father Seminack was called, he faithfully served God and the people of God. He was ordained a bishop of the St. Nicholas Eparchy in Chicago on June 4, 2003. Throughout his priestly life, Bishop Richard employed his talents in faithful service. It was this personal gift of "loyalty, faithfulness, вірність" that Bishop Robert highlighted in remembering the life and works of the late Eparch of Chicago throughout his homily.
In Metropolitan-Archbishop Soroka's homily he said, "Jesus called his disciples the salt of the earth; we heard that in the Gospel today... Bishop Richard belonged to the company of those holy men and women who we can describe as the salt of the earth who did not go flat and did not lose its flavor. Bishop Richard kept his zest for living to the end of life; even when facing declining health. He continued to persevere in his life vocation."
In describing some of the qualities that made Bishop Richard the salt of the earth, Metropolitan Stefan said, "Bishop Richard's life clearly reveals that he had a real sense of self-worth. He understood the importance of his earthly life, and he lived under a deep sense of a meaningful purpose in life; yet he was fulfilling God's divine mission within him…Bishop Richard lived his life with a sense of mission and purpose and he quietly inspired others to do the same thing."
Metropolitan Stefan continued, "Another special quality of Bishop Richard was the way he handled challenges and difficulties in life. He showed such incredible strength in handling his life. He was not one to want to unnecessarily burden others with his own difficulties. He was always strong for others. He reached out to others and helped them carry their burdens and problems. Bishop Richard was the salt of the earth in his dealing with challenges in life and he demonstrated to each of us of how to entrust ourselves to God and to His ways in good times and in difficult times."
Metropolitan Stefan said, "Most important, was Bishop Richard's steadfast faith in God. He lived and professed profound faith in and love of God."
Towards the conclusion of the Hierarchical Divine Liturgy, messages of condolence were read on behalf of His Holiness Pope Francis and His Beatitude Sviatoslav Shevchuk, father and head of the Ukrainian Catholic Church.
Very Rev. Richard Janowicz, administrator of the Chicago Eparchy, read the letter in English from Cardinal Pietro Parolin, Vatican Secretary of State. Cardinal Parolin wrote, "The Holy Father was saddened to learn of the death of Bishop Richard Steven Seminack and he asked me to kindly convey his heartfelt condolences to the clergy, religious and laity of the Eparchy of St. Nicholas in Chicago."
Very Rev. Archpriest Mykhailo Kuzma, also from the Chicago Eparchy read the message of condolence from His Beatitude Sviatoslav in English. Patriarch Sviatoslav wrote, "With a deep sorrow I accepted news concerning bishop of Chicago Eparchy Richard Seminack who passed away after a long and severe disease. The Synod of Bishops of the UGCC and I with all people of goodwill extend our sympathy and assure you of our prayers for the newly departed."
The funeral services concluded with the anointing and prayers of absolution and a panakhyda service. Interment followed in St. Mary's Cemetery in Elkins Park, PA.
Article by "The Way."