Cardinal Sandri shared about his visit to Ukraine
Thursday, 20 July 2017, 14:17
Cardinal Leonardo Sandri, Prefect of the Congregation for the Oriental Churches, wrapped up a week-long visit to Ukraine on Monday, Vatican Radio informs.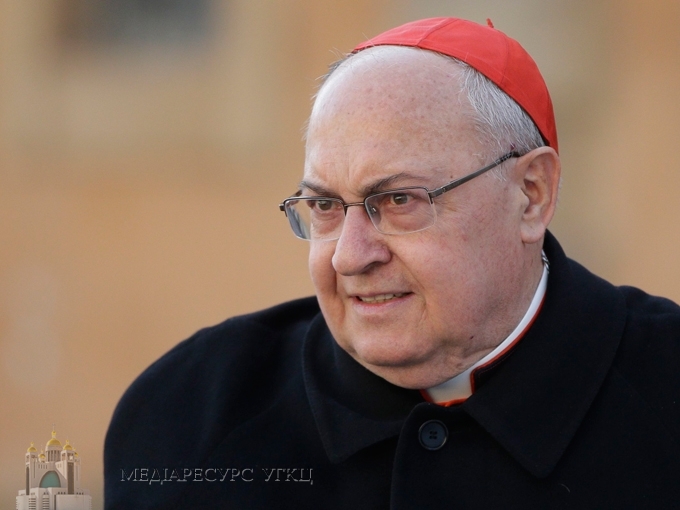 He made the trip as a sign of solidarity with the faithful of the Ukrainian Greek Catholic Church in the wake of continued conflict in the eastern regions of the country.
Cardinal Leonardo Sandri agreed to the week-long visit to Ukraine at the invitation of Archbishop Sviatoslav Shevchuk, the head of the Ukrainian Greek Catholic Church.
The first stop of Cardinal Sandri's visit was to Maidan Square in the capital Kyiv. There he prayed silently at the cross erected to mark the Euromaidan Protests of 2014. He placed a floral homage and lit a candle for the victims.
The Prefect for the Congregation for the Oriental Churches was accompanied by Archbishop Shevchuk and the Apostolic Nuncio to Ukraine, Archbishop Claudio Gugerotti.
While in Kyiv, he prayed at the tomb of the late Cardinal Lubomyr Husar, who died just over a month ago.
Cardinal Sandri also blessed and celebrated the Divine Liturgy at the Cathedral of the Exarchate of Kharkiv, currently under construction.
During the homily, Cardinal Sandri said, "On both human and Christian levels, love for truth with which the apostles entrusted us prohibits us from accepting the silence which has fallen on the conflict in Ukraine and on the suffering which has befallen tens of thousands of people."
The Ukrainian Greek Catholic Church visited by Cardinal Sandri is an Eastern rite church that is in communion with the Pope.
Heading into the eastern regions of the country later in the week, Cardinal Sandri visited Kramatorsk and Sloviansk, areas which were recaptured after the occupation of 2014 and are near the 'grey zones' of Donbass.
There he prayed before the hollowed out shells of buildings and cracked pavement, through which grass had grown as a testament to the world's neglect of the region.
Yet hope and a helping hand had the last word, as Cardinal Sandri visited a Caritas shelter offering food and accompaniment for the hundreds of children whose lives have been forever changed by the shock and trauma of war.
Cardinal Sandri also took part in the pilgrimage to Zarvanytsia sanctuary in western Ukraine and held meeting with the Ukrainian Catholic youth gathered there.
Source:RISU