"A new page of history of Catholic Church in Ukraine has been started", Head of UGCC about Edvard Kava's installation
Thursday, 22 June 2017, 14:43
Head of UGCC participated in episcopal ordination of bishop-nominee of RCC in Ukraine Edvard Kava. The ceremony was held today, June 21, in Lviv Metropolitan Basilica of Latin Rite. The Major Archbishop marked the importance of today's event and called it a start of a new page of Roman Catholic Church in Ukraine.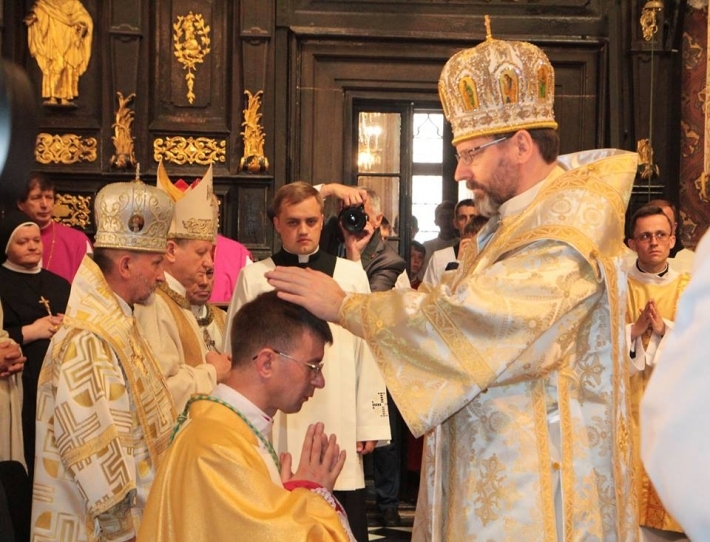 "I assume that all Catholic Church in Ukraine feels being beloved today. The event what is happening today in Lviv and what happens on Saturday in Kyiv gives us a feeling that a new page in history of Catholic Church in Ukraine has been started. The page that will be marked with love, not only love which proceeds from God, but also brotherly love among us, among those two lugs of Church – Eastern and Western", His Beatitude Sviatoslav declared.
Appealing to bishop Edvard Kava, Head of UGCC stressed on the significance of episcopal service and recalled words God said Moses one day.
"When the Lord is choosing His servant among us, His bishop, He is kind of telling us what He said to Moses once next to the Burning bush: "I have witnessed the affliction of my people and have heard their cry, so I chose and called you".
Your Excellency, you are beloved with God. Today He is showing how much He loves you. He had loved you before the world was created", Head of UGCC mentioned.
"Today we are accepting you to a collegium of apostles' successors, to our community of catholic bishops of Ukraine with a great joy, hope and love… We are forming together with you. Today we are accompanying you with a prayer, however we are just starting doing this, and we will be walking side by side with you further", His Beatitude Sviatoslav assured.