"Lubomyr loved peace," recalls His Beatitude Sviatoslav
Friday, 02 June 2017, 12:07
On June 1, at the Patriarchal Cathedral of the Resurrection of Christ His Beatitude Sviatoslav, Father and Head of the UGCC, made an official announcement on the occasion of death of His Beatitude Lubomyr (Husar). During the conversation with the representatives of mass media the Primate of the Church shared his own memories about His Beatitude Lubomyr. Below is his direct speech.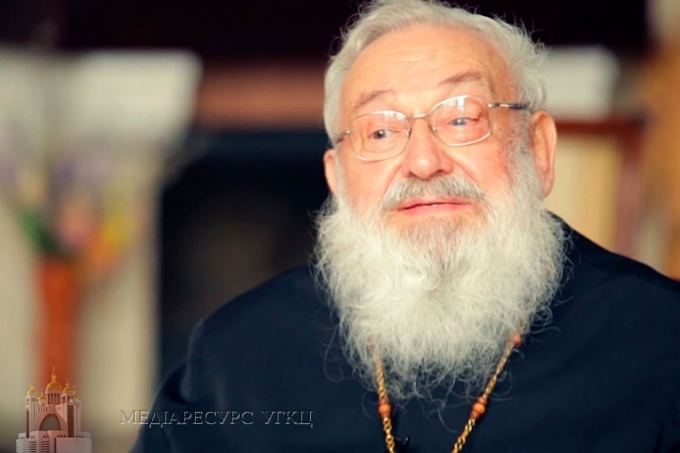 Only two months ago, on April 2, when we here were solemnly celebrating the 40th jubilee of the Archbishopric ordination of His Beatitude Lubomyr, he addressed all of us with such words, "I beg all of you: pray! Pray for our Church so it may flourish, so it may glorify the Lord our God and serve the Ukrainian people." On these mourning days we must fulfill this spiritual testament of our father. We must pray for the eternal repose of his soul, for the gift of Holy Spirit for our Church and our nation by his holy prayers. Today from all of us His Beatitude Lubomyr needs prayer. Therefore the Ukrainian Church - both in the country and on the settlements - is now asking God, "O Christ, with the Saints grant rest to the soul of Your servant that he may repose in a place where there is no pain, no grief, no sighing but everlasting life."
***
The Lord our God granted me the opportunity to know His Beatitude Lubomyr for a long time. I remember, how in 1993 he, together with monks Studites, moved from the monastery near Rome to Lviv. Then he was a spiritual director of the seminary, and me - a young, just ordained deacon. At that time I had one spiritual dilemma: I didn't know what to do so I came to ask him for advice. His Beatitude Lubomyr looked at me and with his characteristic humor said, "Brother, you are a fool." And then he explained the truth to me. I felt so calm and peaceful. Lubomyr lived in peace. He loved peace, generously shared it and in a similar way, peacefully, reposed in God.
***
His words are still resounding in all of us, which he said to the million of people who had gathered at the Maidan. We all then, indeed, at once discovered ourselves as people with dignity. Though we were afraid at the same time. Then he addressed all of us in his peaceful and confident voice, "Do not be afraid." A lot of challenges rose before us at that time: Heroes of the Heavenly Hundred, a war in the east. Under such circumstances people are always afraid. But his words "Don't be afraid" were a kind of light. I believe that millions, without fear, were, are and will be going along the path towards dignity, which His Beatitude Lubomyr pointed out to us. He repeated so many times his credo - to be a human being. I guess, for all of us, believers and non believers, Christians of various denominations, he will forever remain the father and teacher, whose wisdom will accompany us our entire life.
***
His Beatitude Lubomyr was a righteous man. I had a chance to work together with him in various capacities: first as his personal secretary in Lviv, later - as his successor, then for three more years I lived with him in Kniazhychi. I believe, everyone, who communicated with him, especially in the last years of his life, saw that the beauty of holiness simply shone through him… We feel that His Beatitude Lubomyr is with God. And in the Heavenly Kingdom those who are not saints are not accepted. We accompany him today with our prayers, and we are convinced that the deceased Bishop, departing from his earthly life, stands before the Throne of the Almighty in the Heavenly Kingdom, so he every time becomes closer to each of us.
***
I met with His Beatitude Lubomyr already after the Electoral Synod. Since before it neither him nor me knew who would be his successor. And so, after that Synod, late at night we came to Kniazhychi, to his residence. His Beatitude Lubomyr personally met me at the door and, like a father, embraced me. That gesture said everything …
The UGCC Department of Information